Proudly sponsored by Otium Planning Group, the Generate Network is Parks & Leisure Australia's (PLA) commitment to the development of our young professionals and emerging leaders. Driving our work is our vision for 'More parks and recreation go-getters for generations to come'.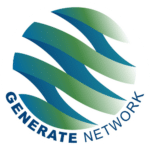 The Generate Network is a launch pad for up and coming parks and recreation go-getters! We break down the barriers of hierarchy, geography, age and economic status and provide a network for up and coming young professionals in our industry to connect, learn and grow. We connect and engage people new to the industry and anyone looking for their next leap forward. We provide a platform for people to have a voice, to network and engage in professional development opportunities.
GEBERATE MENTORING PROGRAM
Get Serious About Your Career
Like the glorious mullet, an iconic Australian commitment to bridge the gap between professional and fun, Parks & Leisure Australia are committed to the development of our new professionals and emerging leaders, but in engaging and fun ways! The PLA Generate Mentoring Program is an exciting new initiative, designed to provide a network for up and coming go-getters to connect, learn and grow in the parks and leisure industry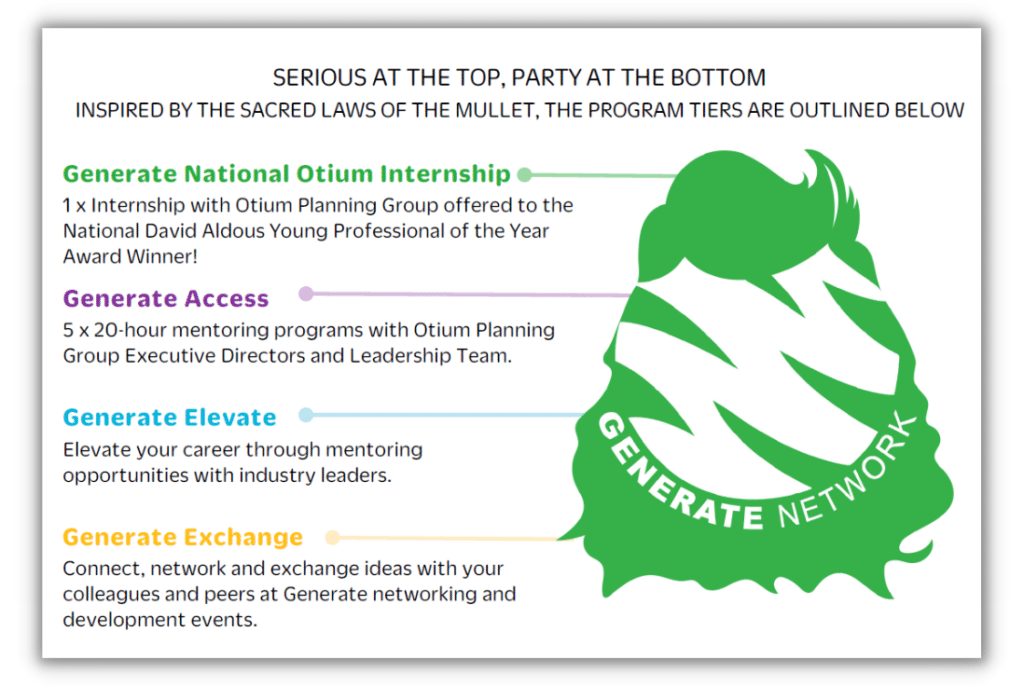 As does the mullet, the program combines professional and enjoyable, and is made up of four tiers. Each of the tiers seeks to facilitate strong mentorship by connecting Generate members with industry leaders.
Registrations for Generate Access have now closed.
Proudly Sponsored by

EXECUTIVE COMMITTEE - LAUNCHING INTO THE NEXT PHASE
We are excited to announce the appointment of the inaugural Generate Network Executive Committee. It is wonderful to have such a passionate and diverse group driving opportunities and outcomes for young professionals and emerging leaders in our industry. The Executive Committee comprises 12 young professionals led by the Chair, and for the first time includes representatives in every Parks & Leisure Australia region. The Executive Committee is 50/50 male and female and is representative of a diverse range of sectors within our industry including; local and state government, planning consultants, engineers, leisure managers, and sports peak bodies.
Over the coming months the Executive Committee focus on formalising our platforms, broadening our network, running events, and connecting people with opportunities and each other. We look forward to launching into the next exciting phase of Generate with all of this passion and expertise on board.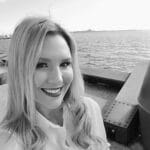 Kristin Davies | Generate Network, Chair
Kristin is an energetic, versatile and focused leader with over 10 years' industry experience. Kristin has a diverse background in sports, recreation, leisure, hospitality, events and gaming sectors, including involvement in a number of start-up and member-based organisations. She has a critical appreciation and sound knowledge of a wide range of industry fields with a strong background in strategic policy and planning, business and finance, governance and operations, stadium and venue management, consultation and engagement, change and issues management, funding acquisition, promotion and advocacy. In addition to studying a Bachelor of Sports Administration and Bachelor of Exercise Science and Human Movement (current) at Victoria University and a Certificate IV in Business Administration, she successfully completed the Parks and Leisure Australia Leadership Program in 2016. Kristin's recent work history includes management and senior strategy positions with the Surf Coast Shire, City of Greater Geelong, Baseball Victoria, insideEDGE Sport and Leisure Planning and Fernwood Women's Health Clubs.
EXECUTIVE COMMITTEE 2021/22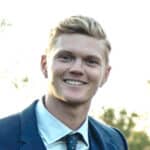 DOM MCGLINCHEY | VIC | Connections and Partnerships
Dom McGlinchey is an accomplished sports and recreation professional a strong track record in developing exceptional stakeholder relationships and advancing community sport.
As the youngest Regional Cricket Manager to be appointed at Cricket Victoria, Dom established and developed the first junior and senior female' cricket leagues in the Barwon region. He was recently appointed as Business Development Manager at Cricket Victoria, leading new commercial partnerships and business opportunities. A recent secondment with the Japan Cricket Association in 2019, Dom helped build capacity, develop infrastructure and coached the Japan national side to victory in the ICC U19 Cricket World Cup East Asia Pacific Qualifier, a first for the country.
Dom continues to play cricket at Premier level and has represented Australia at the Under 19 level on a tour of India. He holds a Batchelor in Sport & Recreation Management.
Driven to bolster the quality and reputation of sport and recreation bodies through a relationship focused approach, Dom is a passionate believer in the potential of the Generate Network to connect up-and-coming industry go-getters. He looks forward to contributing to and learning through the experiences of other Generate Network members!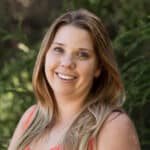 TARRYN ELVERD | VIC | Marketing and Communications
Tarryn found her passion for Local Government Sport and Recreation through an internship position at the City of Casey, whilst studying a double degree in Bachelor of Sport and Outdoor Recreation and Bachelor of Business at Monash University.
Tarryn currently works for Yarra Ranges Council in the Recreation and Active Living Team. In her role as a Project Officer, she has a strong interest in delivering sport and recreation opportunities for the community, with an emphasis on trail development. Her passion lies in activating people and places, and helping people become healthier and connected to the outdoors.
Prior to her current role, Tarryn worked for YMCA Victoria in a marketing role. Her other areas of interest include facility management, consultation and engagement, promotion and advocacy and acquiring funding.
In her spare time, Tarryn loves to get outdoors and explore, whether it be surfing, hiking, mountain biking or landscape photography.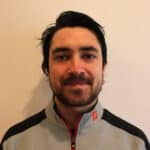 MICHAEL MCKAY | VIC | Membership Services / Engagement and Activation
After completing a Bachelor of Arts at the University of Melbourne and a Master of Laws at Monash University Law Chambers and finding his passion in recreation and leisure, Michael commenced his career at Belgravia Leisure as the General Manager of Yarrambat Park Golf Course in June 2016. Following some key innovations, he was quickly promoted to the role of Golf Area Manager.
Michael now plays a strong role in Belgravia Leisure's approach to golf course management, greenspace activation, tendering on park assets and major capital projects. He has a passion for golf's community outcomes, from its mental health and social outcomes to its environmental mantle and housing of wildlife populations.
Michael's vision for golf is one that is increasingly diverse and inclusive. In recent years he has led the transformation and engagement associated with the Yarrambat Park Golf Course management structure, now comprising arts graduates, skateboarders and musicians. This diversity has resulted in an increase in participation beyond traditional user groups.
Michael also introduced a series of innovative and engaging 'non-direct golf' initiatives such as food truck parks, twilight movie nights and Easter-egg hunts which have generated unprecedented utilisation by young families in the area, who had previously never visited the facility.
Michael is very excited to join the Generate Network Australia and work alongside other committee members who value the benefits of green infrastructure.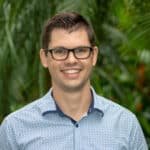 JOSH GERAGHTY | QLD Representative / Operations Lead / Generate Operations
Josh has worked in the sport and recreation industry for 4 years, alongside some of the industry's leaders at Otium Planning Group. He completed his Bachelor of Planning with Honours at James Cook University in Cairns in 2014. It was here he found his desire to work in sport and recreation planning, with his thesis on developing sport tourism in a regional centre.
Josh has spent the last 4 years working with regional communities and councils and understands the unique circumstances that impact the delivery of sport and recreation in these areas. He has seen, firsthand, the impact social media has had on the perception of what is expected in these areas and he understand how important the role of peak bodies like Generate and Parks and Leisure Australia will have on how these communities move forward.
Before joining Otium, Josh spent time in the Department of Infrastructure, Local Government and Planning, assisting in the approval of planning scheme in Far North Queensland.
When he isn't working, Josh loves to be involved in any sport he can, including hockey, soccer, and basketball.
NSW Representative / Generate Intelligence / Data, Insights and Reporting
This position is currently vacant.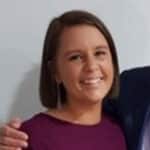 SARAH ROBINSON | VIC/TAS Representative / Generate Professional Development
Sarah Robinson was awarded the Parks and Leisure Australia, National Emerging Leader Award in 2018 due to her personal attributes, work ethic and significant list of achievements. This award is in recognition of the beginning of a very promising career.
Sarah graduated from Federation University with a Bachelor of Sports Management and Business (Marketing) in 2016, along the way completing placements at Geelong Football Club, Maribyrnong Sports Academy, AFL Goldfields and the City of Ballarat.
After graduation Sarah was employed in a communications role at the Ballarat Aquatic and Lifestyle Centre for 18 months, working her way up, Sarah has spent the past two years at Macedon Ranges Shire Council as the Recreation Development Officer.
Sarah comprises a diverse background with experience in legal administration, hospitality, marketing / communications and sport / recreation.
Sarah aims to deliver excellence and professionalism to the best of her ability and to learn from every experience. Sarah believes that her past experiences have increased the value she places on quality communication and that a discussion can go a long way.
Sarah likes to try new things and be challenged along the way. But most of all she is a great fit for the executive committee because, as she says, "I still don't know what I want to be when I grow up", and that is exactly what the Generate Network is all about.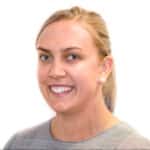 LAUREN CLOSE | VIC | Policy and Governance
Lauren is an emerging leader at the Otium Planning Group with a background in Local Government leisure and community facilities both in Victoria and the Northern Territory.
In her previous role with Darebin City Council, Lauren oversaw the delivery of leisure and recreation services, including the development and delivery of a number of sporting programs and activities to benefit the community.
Lauren also has strong experience in governance, procurement and contracts in local and state government environments.
Lauren is also a very experienced netballer, with over five years' experience in the Victorian and Australian Netball League, and the State and National Mixed Netball Teams. Lauren continues to coach, and to play netball in the Victorian Netball League.
VACANT | SA/NT Representative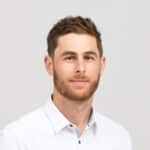 CHRIS EARL | Deputy Chair / Industry Leadership
Chris has a great passion for the Sport and Recreation industry and being able to positively influence people's lives through physical activity and recreation. Chris has a diverse range of experience in facilitating Sport & Recreation programs and events through working across a number of sectors including national sport organisations, schools, universities and local government.
As a New Zealand native, Chris made the move across the Tasman from his role at Auckland Council at the beginning of 2016. Chris challenged himself to get outside of his comfort zone and try something others may not and was given an opportunity to do this at Curtin University in Western Australia.
In his current role of Sport and Recreation Coordinator he manages a team that leads the facilitation of a range of Sport and Recreation Programs and developing junior pathways for sport. Chris' passion for engaging the wider community in sport and recreation led to him starting a number of new programs at Curtin. Chris' efforts in building collaborative programs for the community have also earnt him a Vice-Chancellors Award for Excellence in Collaboration in 2018.
Chris enjoys the opportunity to make an impact on the industry.
Outside of work Chris generally enjoys playing and being involved in sport in any capacity, whether it be watching or playing.
DANIEL FERGUSON | VIC/TAS Representative / Generate Research and Knowledge
Dan is the Founder and Managing Director of the CommunityCollaborative – a boutique consulting agency that specialises in the sport, recreation, health, social policy and urban planning fields.
Combining qualifications in Sport Science and Urban Planning and more than a decade of industry experience, Dan has worked in local and state government, not-for-profit and private consulting across areas as diverse as elite sport, community recreation, social planning and public health.
He started out studying Exercise and Sport Science with dreams of working in pro sport, but a chance internship at Simon Leisure Consulting under the guidance of PLA Vic/Tas Executive Officer and all-round industry guru Richard Simon opened his eyes to the world of local government parks and recreation. He was lucky enough to follow this up with a graduate role at @leisure planners, and has since worked at numerous local Councils, Sport and Recreation Victoria and now as a consultant.
Through those early years under PLA members, Dan grew a real appreciation for the role of industry associations. He currently sits as a Regional Councillor for the PLA Vic/Tas region and a representative on the Generate Network Executive Committee. He is especially keen to help launch the careers of the next leaders of our industry, hoping to facilitate great opportunities like he had early on in his career.
In his spare time Dan is a North Melbourne, Melbourne Victory, Glasgow Rangers and Manchester United tragic – at the time of writing it has been a horrendous season of pain for all of them!

Through our partnership with the Otium Planning Group Pty Ltd, we offer a fantastic mentoring program. No matter where you live in Australia you have the opportunity to partner with an Otium Planning Group Director so you can learn from an experienced industry professional who can provide a tailored development program.
We will soon be calling for Expressions of Interest to help match our young professionals to a suitable mentor so sign up to our newsletter so you don't miss out.