Hybrid Event
QLD/NSW Recreational Aquatics Industry Forum
November 2 @ 8:30 am

-

1:30 pm

AEST

Hybrid Event

$30.00 – $90.00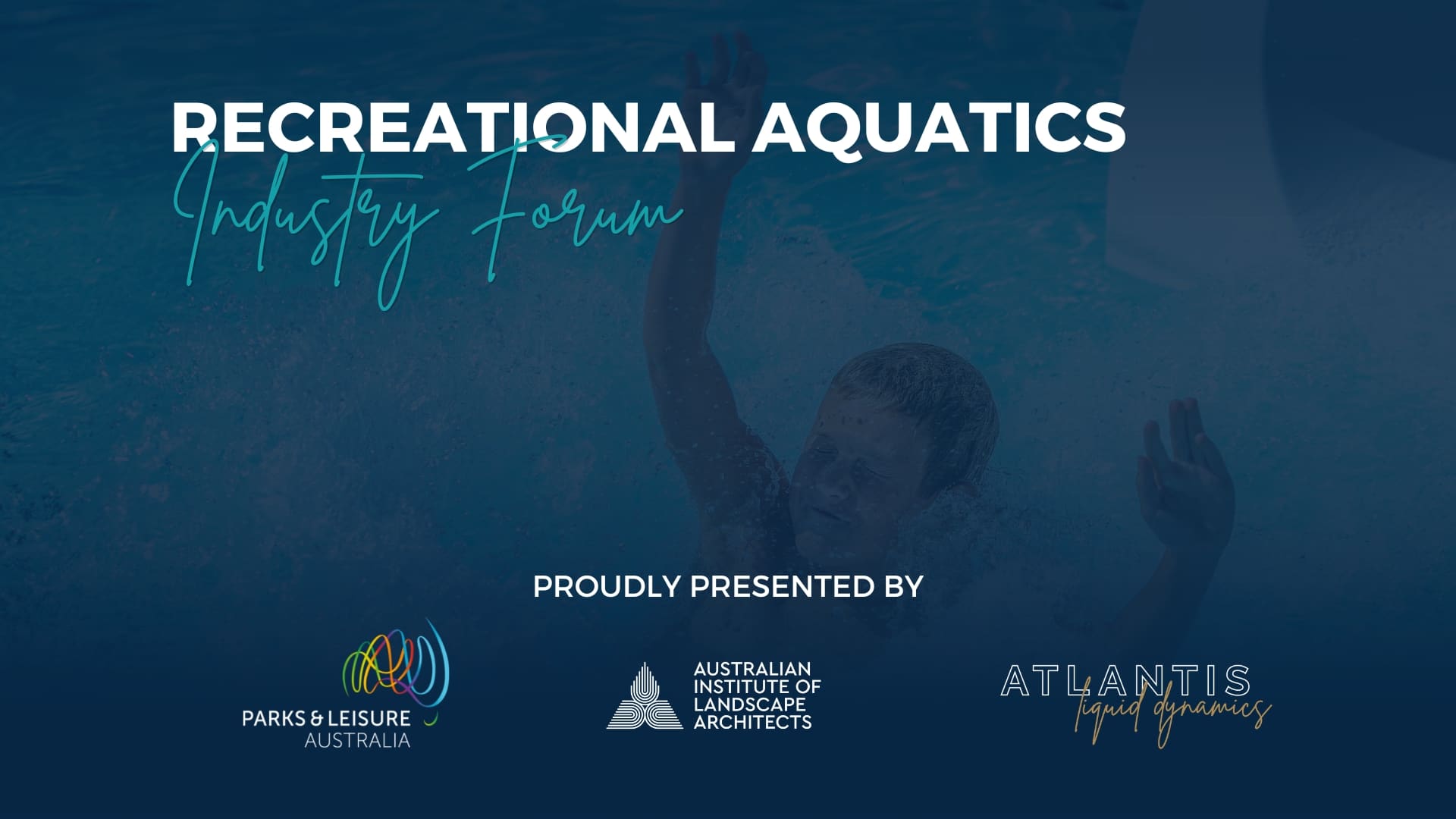 Realising the potential of interactive public water features through best practise design. 
Water has the power to enthrall and fascinate an audience and has long been an integral part of our recreational spaces.  As a precious resource, we are responsible to our community and coming generations for its sustainable and future-focussed use.
To highlight the opportunities for use of water within recreational aquatic environments, we have gathered a panel of experts from around the world to discuss everything from sustainable design to best-practise engineering, project execution and the global future of our industry.
With a program designed to empower industry stakeholders—designers, specifiers, and asset owners – to create successful and sustainable water features and splashparks, you will learn more about:
The resurgence of water features and splashparks within recreational environments and the benefits they give to communities
Intuitive and biophilic design and the connection of people and nature
Water sanitation systems overview and water quality considerations
Structural and hydraulic engineering requirements for water features
Collaborative design practices across community, asset managers and Local Government Authorities
Council master planning and creating future-focussed community facilities
Water sustainability and the use of technology to protect our resources
Rethinking aquatic center design in line with community needs – is the 50m pool dead?
Interactive water features and fountains and their impact on the urban heat island effect
Australian and Global design trends
By the end of this forum, you will have a greater understanding of the role aquatic recreation facilities can play within our communities, as well as the best practice design tools to deliver a sustainable and successful project.  If you have a keen interest in the use, sustainability, and future application of water in recreational environments, this day is for you.
You will hear from:
David L'Heureux – Crystal Fountains
Glen Power – URBIS
Luke Bartlett – Aquatic One
Wes Mortensen – Moreton Bay Regional Council
Yuri Dillon – Liquid Blu
Michelle Nolland – Larcan
Shane Vardy – Atlantis Liquid Dynamics
After the Industry Forum we will be hosting an in-person Technical Tour at Logan Gardens Waterpark, where you will be able to tour the public facilities and plant room, with discussions from the water quality specialists monitoring the system.  You will also hear from Council Asset Managers with an overview of this project's design narrative alongside Council's responsibility for keeping the park online and engaging with the community.
Industry Forum
Victoria Park – Garden Marquee.  454 Gregory Terrace, Spring Hill QLD 4000
8am arrival for an 8:30 start.  Event will conclude at 1:30pm
Morning Tea and Lunch will be provided.
Technical Tour, Logan Gardens Waterpark 
Logan Gardens Waterpark – 12 Civic Parade, Logan Central QLD 4114
2:15 Arrival, 3:30 finish.
Delivered in 2020, Logan Gardens Waterpark is the heart of Logan Central, designed to be the epi-centre of cultural and family activity within the region.
Take this opportunity to tour the facility, designed by URBIS, and view the inner workings of the water management systems.  Aaron Bourke from The Pool Shop will run us through the operational requirements for a facility of this size, and Wayne May from Logan City Council will discuss community feedback, patronage and engagement with the space.
Program
1:30 – 2:15 – Travel from Victoria Park to Logan Gardens
2:15 – 3:30 – Technical Tour including Plant Room
3:30 – Tour concludes
3:30 – 4:30 – Travel back to Victoria Park
You will hear from:
Aaron Bourke – The Pool Shop
Wayne May – Logan City Council
Coach transfer will be available to the Technical Tour (returning to Victoria Park) however numbers are limited.  Estimated return time to Victoria Park is 4:30pm.
You are welcome to make your own way to the Technical Tour (there is plenty of parking on-site) and make your own way home at the conclusion of the tour.
Please indicate any dietary requirements and if you would like to attend the technical tour please let us know in the order notes at checkout when you purchase a ticket.
Can't attend in person?
Due to the incredible content being offered in this forum, we didn't want geography to be an issue!  This is a hybrid event and the forum will be livestreamed across Australia.  Simply indicate your preference by selecting an in-person or online ticket.
You won't be missing out!  This event will be integrated with Slido – an interactive platform that will allow you to ask questions, participate in polls and engage with the forum chat on the day.
Ticket Prices
In Person event and technical tour
$90 for non-members and $70 for members
Livestream event option
$50 for non-members and $30 for members
Register by midnight Friday 27th October for in-person event
Register by midnight Tuesday 31st October for online event